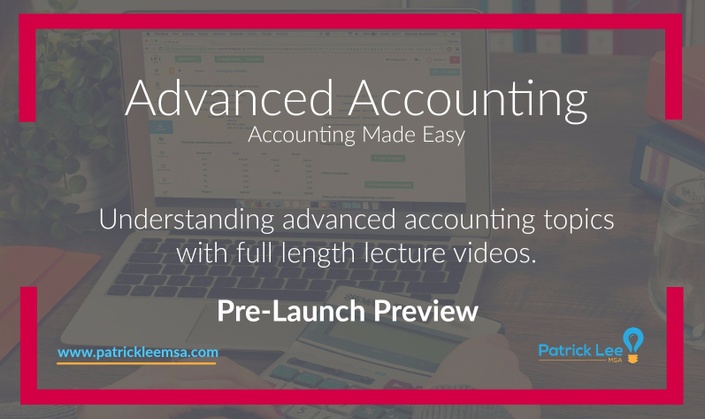 Advanced Accounting Lectures - Accounting Made Easy
Understanding Advanced Accounting topics with full length lecture videos.​
Enroll in Course
You've probably seen my YouTube channel and that is what brought you to this website. When you purchase a subscription, you will be able to access the full Advanced Accounting video library. With over 100 videos in this library, it is one of the most comprehensive library of advanced accounting videos available. The videos are in full HD and are in the same format as the ones posted on YouTube.
Since this is a subscription, once you're done, all you have to do is cancel your subscription and we will stop billing you.
Here is what is included in this subscription library.
Section 1 - Intercompany Acquisitions and Investments in Other Entities
Section 2 - Consolidation of 100% Owned Subsidiary - No Goodwill
Section 3 - Less than 100% Owned Subsidiaries - No Goodwill
Section 4 - Consolidation 100% at More Than Book Value
Section 5 - Less than 100% Owned Subsidiaries at More than Book Value
Section 6 - Intercompany Inventory Transactions
Section 7 - Intercompany Transfers of Services and Noncurrent Assets
Section 8 - Multinational Accounting
Section 8 - Segment and Interim Reporting
Why you should buy this course?

In 2015, I started a YouTube Channel where I posted lecture videos of my classes, then in 2016, I started to record lectures from my home studio where I focus on delivery rather than a classroom. With over 80,000 views on YouTube and over 900 subscribers, the videos I provide in this course are made to help you succeed in your accounting course.
Can I watch a few lessons before purchasing?

Absolutely, in the first 5 sections of this course, 1 video has been offered free of charge for you to review the course content and how the course it designed. Take all the time you need, but you won't be able to access the other 111 or so videos until you purchase the course.
How is this different than watching a video on YouTube?

A unique part of my teaching technique is how I present the material. You will find little slide deck videos. A slide deck video is where the video content creator simply records their voice over their slide deck and creates a video this way. Although this can be an effective way of delivering content, we have found that students really love watching my videos and watch me point at specific things on the board when I talk about a certain point. In 2017, I've upgraded to an higher resolution HD camera, a better quality video editor, and better audio so you can enjoy the lesson and get all of the material I throw at you. It's worth it.
Is this a one semester course or two?

This course is a no due date course. Unless we take it off our website or make it offline, you'll have forever access to it. However, you're probably talking about in relation to your class. This course is similar in nature to a two semester Advanced Accounting course.
Can CPA candidates use this course to study for the CPA Exam?

Over the past few years, I have seen many more individuals who are CPA Exam Candidates use these lecture as a way to supplement their studies as they prepare for the CPA Exam. Although this course is NOT a CPA Review Course, it is a good supplement to the CPA Exam Review and we would highly suggest you use this in conjunction with other CPA Exam Review materials. Many students will use this course as a reference site. If they still don't understand something, they just come on and watch the lecture that most clearly identifies what they are trying to study.
Do you have any more courses like this?

Yes! Intermediate Accounting is in the same pre launch party as advanced. It is available on my course page. In the future, we would like to add an auditing theory and an individual tax course. However, those are not confirmed, just ideas. We believe auditing theory would come before income taxation.
How long is your lecture videos?

A vast majority of the lectures are less than 10 minutes in length. Some are as long as 20 + minutes, but this is due to the complexity of the issue or the need to cover it in one sitting rather than multiple sittings.
About Patrick

Patrick is an Assistant Professor of Accounting at a small private institution. Since 2013, Patrick has taught undergraduate accounting ranging from fundamental courses to advanced level upper division courses. He routinely received very positive feedback at the end of the course from his students and peers. Since 2016, Patrick has garnered over 70,000 YouTube Channel views and over 800 subscribers. Named to the CPA Practice Advisor's 40 under 40 Accounting Professionals to lead the accounting profession into the future, Patrick has won numerous awards and accolades as faculty member and an accounting professional. For more information on Patrick, please visit him at www.patrickleemsa.com.
Your Instructor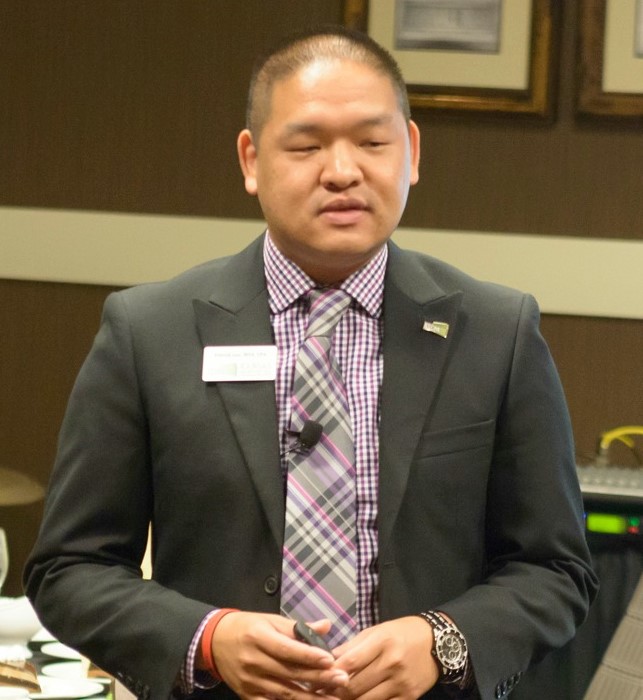 Patrick graduated from the University of La Verne's College of Business and Public Management with a Bachelor of Science in Accounting and an Emphasis in Management. After graduating from La Verne, Patrick started his accounting career at Deloitte & Touche, LLP as a staff auditor in the Real Estate and Manufacturing sectors. During that time, Patrick passed the Certified Public Accountants Exam in 9 months during busy season at Deloitte. Patrick was issued his CPA license from the California Board of Accountancy.
After obtaining his CPA license, Patrick started his accounting firm with other business partners in Southern California. His specialty at the accounting firm he owned was small business accounting and tax work. During the five years as an accounting firm owner, he managed to grow the firm at an annual rate of 15 - 20%. After selling his firm in 2014, Patrick went into teaching as an Assistant Professor of Accounting.
Patrick has numerous accolades to his resume including:
- 2016 CPA Practice Advisor's 40 under 40 Accounting Professionals who are helping lead the profession into the future
- 2016 Charles H. and Verda R. Kopke Award for Distinguished Teaching
- 2016 Kansas Independent College Association Faculty of Distinction
- 2015 Fassnacht Outstanding Faculty Award
- 2014 Edith Olmstead Award
An important part of being a business faculty is keeping one's hand in the business world. As such, Patrick is the owner of RaceTimerz, LLC (www.racetimerz.com), an event timing company serving the Midwest (Kansas, Oklahoma, Nebraska, and Missouri). RaceTimerz has been profitable ever since the first year of operations and his clients have depended on his services each year. RaceTimerz's success is credited to Patrick's leadership skills as well as living the mission of providing affordable, professional, and unique timing services to their clients.

Patrick sits on the Kansas Society of CPAs Board of Directors and represents the American Institute of Certified Public Accountants at diversity events throughout the United States.
For more information on booking Patrick as a keynote or guest speaker, please contact [email protected]
Frequently Asked Questions
When does the course start and finish?
The course starts now and never ends! It is a completely self-paced online course - you decide when you start and when you finish.
What if I am unhappy with the course?
We would never want you to be unhappy! If you are unsatisfied with your purchase, contact us in the first 30 days and we will give you a full refund. Please contact us at
[email protected]
Canceling your subscription does not automatically issue a refund, you must contact us for a refund in your first 30 days.