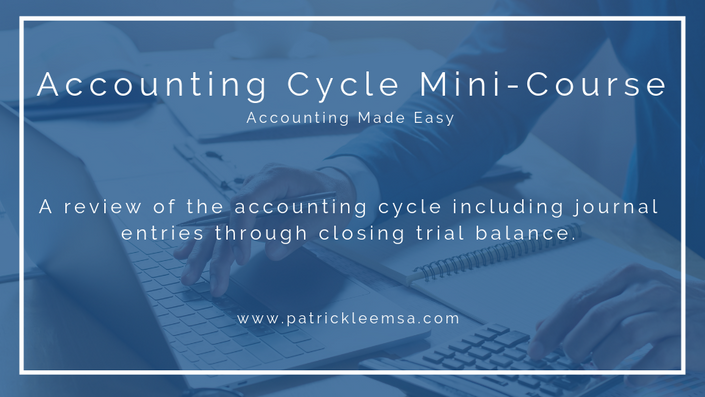 Accounting Cycle Mini-Course
A review of a comprehensive accounting cycle example - Start to Finish
Need a review of the Accounting Cycle - Try this Mini-Course

Are you in Principles of Accounting or Financial Accounting right now? Has it been some years since you've taken accounting and you need to brush up on the accounting cycle? Are you heading to intermediate accounting and need a review of what you should have learned in your foundations of accounting class?
This mini course is a unique course and is unlike the other course offerings available on this site.
The contents in this course is based on a comprehensive accounting cycle problem. You will start with an accounting cycle prompt and then I will walk you through the solving of the problem from top to bottom. The videos in this course includes:
- Review of the example prompt
- Preparing Journal Entries related to the example prompt
- Posting the Journal Entries to the T-Accounts
- Preparing the Unadjusted Trial Balance from the T-Accounts
- Preparing Adjusting Entries related to the example prompt
- Preparing the Adjusted Trial Balance
- Preparing the Income Statement
- Preparing the Statement of Retained Earnings
- Preparing the Balance Sheet
- Preparing Closing Entries related to the example prompt
- Preparing the Closing Trial Balance
The entire course revolves around the example prompt. This mini-course is more of a review than a teaching course. In this course we will explain some of the topics in more detail than required, this mini-course is not a great course to enroll in if you are looking for a course that teaches you the above topics.You should have a fundamental knowledge of these topics. If you are looking for a course that teaches you these items in detail, checkout the Financial Accounting course in which I walk you through each topic in detail.
This course includes printable worksheets that you can download and walk-through with me in each of the videos in this mini-course.
Questions About this Mini-Course
Do I need to know accounting to take this course?
Yes. This course is not a foundation course and you should have some knowledge of basic accounting rules including journal entries, financial statements, and the accounting cycle. If you took accounting a few years ago, this mini-course will help jog your memory on basic accounting topics. This course is not a full review of a foundation of accounting course. To learn the basics of accounting, checkout the Financial Accounting course.
Who would benefit from this course?

This course was designed as a review of the basic fundamentals of accounting for an intermediate accounting course. This course was prepared in the lens of an example. The example is what the entire mini-course revolves around.
Is the cost of this course a one-time fee or a subscription?
This course is a flat one-time fee rather than a subscription. All of our other courses is on a subscription model. This course is a one-time fee. You will have access to this mini-course for as long as we have it available for students.
What is the refund policy for this mini-course?
This course does not provide a refund after it has been purchased. This is due to the ability of the student to be able to complete all aspects of this course in a relatively short amount of time. Once content has been consumed, it cannot be returned and therefore a refund cannot be issued.
How many videos are available for this course?
This course is 13 lessons long with the first lesson being an overview of the prompt.
Can I view a video prior to purchasing?
Yes! Lesson 11 is available for your preview. Check out lesson 11 before purchasing to see what the videos are like before you enroll.
What if I have another question?
Feel free to e-mail us at [email protected] and we will get back to you as soon as we can with an answer.
Your Instructor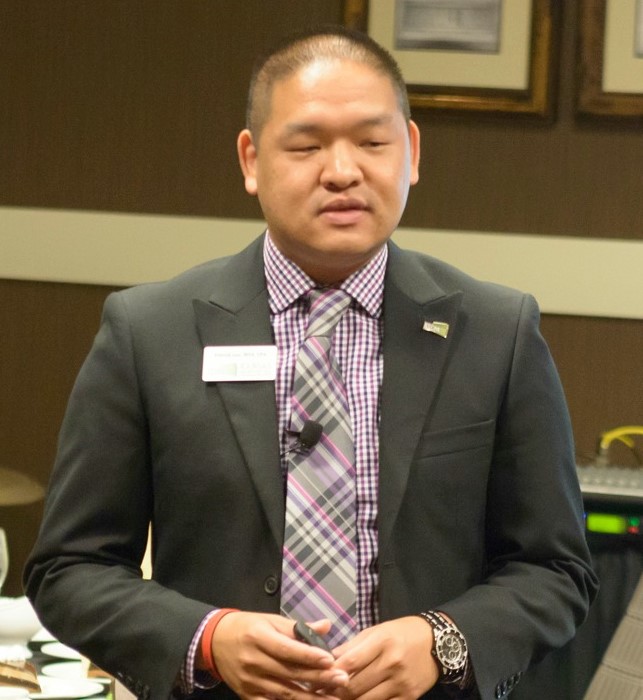 Patrick graduated from the University of La Verne's College of Business and Public Management with a Bachelor of Science in Accounting and an Emphasis in Management. After graduating from La Verne, Patrick started his accounting career at Deloitte & Touche, LLP as a staff auditor in the Real Estate and Manufacturing sectors. During that time, Patrick passed the Certified Public Accountants Exam in 9 months during busy season at Deloitte. Patrick was issued his CPA license from the California Board of Accountancy.
After obtaining his CPA license, Patrick started his accounting firm with other business partners in Southern California. His specialty at the accounting firm he owned was small business accounting and tax work. During the five years as an accounting firm owner, he managed to grow the firm at an annual rate of 15 - 20%. After selling his firm in 2014, Patrick went into teaching as an Assistant Professor of Accounting.
Patrick has numerous accolades to his resume including:
- 2016 CPA Practice Advisor's 40 under 40 Accounting Professionals who are helping lead the profession into the future
- 2016 Charles H. and Verda R. Kopke Award for Distinguished Teaching
- 2016 Kansas Independent College Association Faculty of Distinction
- 2015 Fassnacht Outstanding Faculty Award
- 2014 Edith Olmstead Award
An important part of being a business faculty is keeping one's hand in the business world. As such, Patrick is the owner of RaceTimerz, LLC (www.racetimerz.com), an event timing company serving the Midwest (Kansas, Oklahoma, Nebraska, and Missouri). RaceTimerz has been profitable ever since the first year of operations and his clients have depended on his services each year. RaceTimerz's success is credited to Patrick's leadership skills as well as living the mission of providing affordable, professional, and unique timing services to their clients.

Patrick sits on the Kansas Society of CPAs Board of Directors and represents the American Institute of Certified Public Accountants at diversity events throughout the United States.
For more information on booking Patrick as a keynote or guest speaker, please contact [email protected]
Course Curriculum
Welcome to the Accounting Cycle Mini-Course
Available in days
days after you enroll
Mini-Course Worksheet - Print This Packet
Available in days
days after you enroll
Example Prompt
Available in days
days after you enroll